VACCA is thrilled to announce the winners of the 2021 Mollie Dyer Awards! On Friday 26 November award winners and nominees were recognised for their hard work, dedication, commitment and leadership at an awards ceremony which was livestreamed via our Facebook page.
Presenting the awards to each winner were members of the judging panel who included VACCA CEO Muriel Bamblett AM, VACCA Chairperson James Atkinson, First Peoples – State Relations Executive Director Tim Kanoa, and VACCA Cultural Support Worker and member of Koorie Youth Council, Nakia Cadd.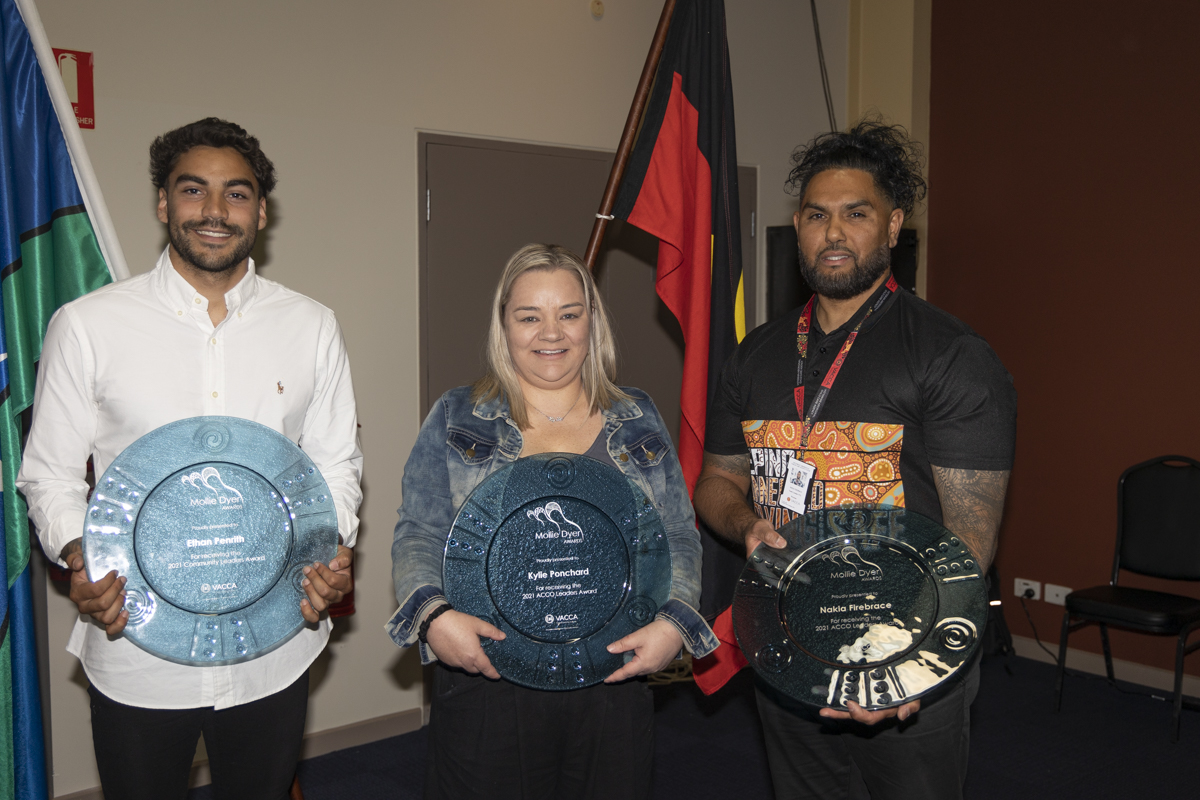 2021 Mollie Dyer Award Winners L-R Ethan Penrith, Kylie Ponchard and Nakia Firebrace
Community Leaders Award
Ethan Penrith – Winner
Ethan is a Yorta Yorta and Yamatji man dedicated to supporting his community, helping to deliver community health programs and advocate for healthy lifestyle choices through his work at VAHS. Ethan also works to empower Aboriginal youth, encouraging them to be their best and become leaders in their own lives. Strongly connected to his culture, family, and community, Ethan positive role model, leader and deserving winner of the 2021 Community Leaders Award.
ACCO Leaders Award
Nakia Firebrace – Winner
Nakia is a strong Yorta Yorta man who is passionate about making a difference in the lives of First Nations young peoples, and ensuring their voices are heard. Nakia has been endorsed by his Yorta Yorta Nation Elders to share his deep knowledge and understanding of Lore, protocol and language with the young people he works with to support their healing journeys and strengthen their pathways back to kin, community, mob and country.
Kylie Ponchard – Winner
A proud Aboriginal woman, Kylie has worked at VACCA for several years and has dedicated much of her life to improving the lives of Aboriginal children and their families, and is a strong advocate for Kinship care. Her dedication and hard work, particularly within VACCA's Nugel program, as well as her supportive and nurturing approach towards staff leadership makes Kylie a deserving winner of the 2021 ACCO Leaders Award.
Shirley Slann – Honourable Mention
Shirley's strong voice advocates on behalf of all the families and children she works with, working to ensure they receive the services they require while building strength and capacity. A leader within VACCA, Shirley is a mentor to all young Aboriginal and non-Aboriginal staff, a woman who stands by her word and shows us all what is meant by integrity, honesty and passion.
Emerging Leader Award
The Emerging Leader Award winner will not be announced publicly, however we are very proud of their resilience, dedication and inspirational leadership.