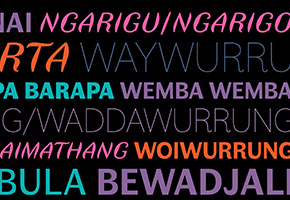 Language isn't just words to describe the world around us. It expresses and reflects the world view of a group of people, including beliefs, knowledge and identity. For Aboriginal people, our language is a core part of our culture that reflects our values, stories, songs and our relationship to Country.
A collection of language resources published & approved by Victorian Traditional Owner Groups & neighbouring New South Wales regions. Description & links provided below.
All information will remain the property of the Traditional Owner groups who freely share these resources. This page will continue to be updated as more resources become available. Links embedded within the text.
Bangerang
Gunaikurnai
Nari Nari
Taungurung
Wadawurrung
Wamba Wamba/Wemba Wemba
Wiradjuri
Wurundjeri Woi Wurrung
Yorta Yorta
General Links & Resources