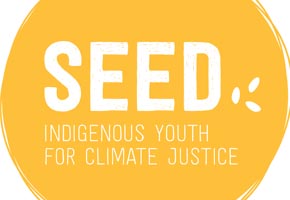 Seed is Australia's first Indigenous Youth Climate Network. Seed is building a movement of Aboriginal and Torres Strait Islander young people working to make climate justice real for our people.

Seed runs campaigns that work to protect country, while also building the capacity of our young people to be a part of creating positive change.
A selection of recent online events by Seed:
A live Facebook event with two staunch tiddas sharing their stories and pain about the injustices still prevalent in our communities. The conversation brings together Apryl and Samara to discuss the #cleanoutprisons campaigns and standing together to stop black deaths in custody.
Collaboration video where Seed Mob teamed up with the Environmental Film Festival Australia (EFFA) www.effa.org.au for their First Nations Initiative, Caring for Country. The video includes the screening and a discussion between the film's protagonists and Indigenous organisers for a Q&A about the film and their work for justice in their communities.