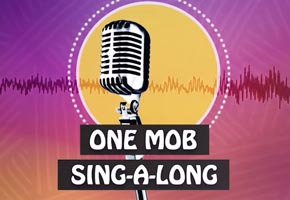 If you're looking for something fun to do then "One-Mob-Sing-A-long" is for you!
Sing-A-Long' as the mob belt out the Kenny Rogers classic: 'The Gambler'
The incredible Emma Donovan and friends sing the Ben E King classic 'Stand By Me':
This Sing-A-Long is Warumpi Band and Christine Anu classic, 'My Island Home' featuring Mindy Kwanten from Bow and Arrow.
The legendary Buddy Knox Blues and all the mob take on the Credence classic, 'Midnight Special'.
Casey Donovan joins the One Mob Sing-A-Long with a deadly version of 'Valerie'.
So much love going out from One Mob Sing-A-Long's 'Leon On Me'.
Come be 'Islands in the Stream' with us on One Mob Sing-A-Long.