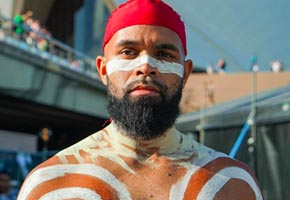 Luke Currie-Richardson who goes by Bala Luke on Instagram is an Aboriginal & Torres Strait Islander storyteller and photographer (photography page: @bl_snaps).
On Luke's profile there is a link to a YouTube video conceptualised and directed by him. This video 'Walking in Two Worlds' is about how First Nations, Aboriginal and Torres Strait Islander people, are forever walking in two worlds, the contemporary and the traditional, both equally difficult to navigate. The video questions how do we integrate into a society, a modern society that was not built to accomodate us, our culture or our lores? A society that was built upon our communities and sacred lands?

"I live off of my Traditional countries, I have most my life. Every day is a journey to reconnect, relearn & reclaim. How do I represent my people and my culture? How do I inspire the next generation or even our generation that want to connect but don't know how?"

LEST WE FORGET the soldiers that risked their lives for a country that didn't acknowledge theirs.