Wearing a face mask can protect you and others around you to prevent the spread of COVID-19.
Across Victoria, face masks must still be worn on public transport, in rideshare vehicles and taxis, in some retail settings including indoor shopping centres, supermarkets, department stores, indoor markets or when you are not able to physical distance. You must carry a mask at all times.
Whether you use fabric or disposable face masks, the following steps will help you to use face masks safely.
To view, download or print our Face Mask Tip Sheet, click here.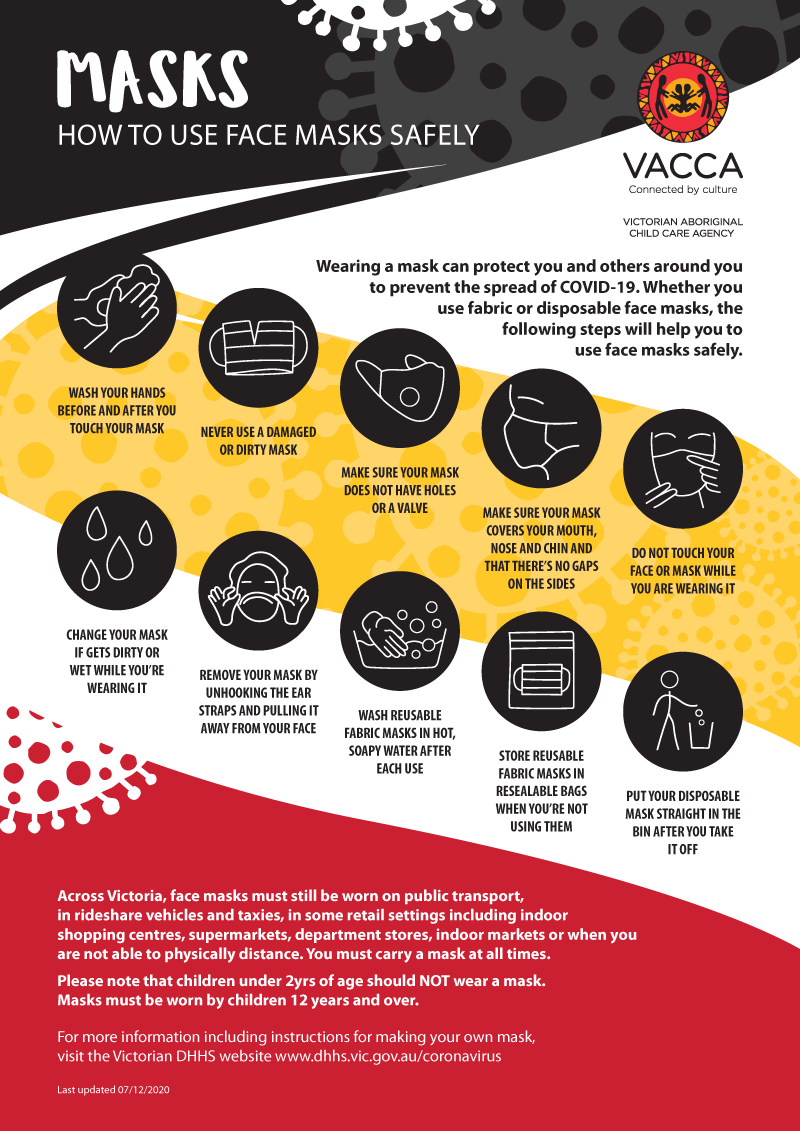 How to use face masks safely:
Wash your hands before and after you touch your mask
Never use a damaged or dirty mask
Make sure your mask does not have holes or a valve
Make sure your mask covers your mouth, nose and chin and that there's no gaps on the sides
Do not touch your face or mask while you are wearing it
Change your mask if it gets dirty or wet while you're wearing it
Remove your mask by unhooking the ear straps and pulling it away from your face
Wash reusable fabric face masks in hot, soapy water after each use
Store reusable fabric masks in sealable bags when you're not using them
Put your disposable mask straight in the bin after you take it off
Please note that children under 2 years of age should NOT wear a face mask. Masks must be worn by children 12 years and over.
For more information
Find up to date information about face masks via the DHHS website here.
For instructions on making your own cloth face mask, click here.
If you think you may have Coronavirus, call the Coronavirus helpline: 1800 675 398
If you're finding it tough and need someone to talk to, call Yarning Safe'N'Strong: 1800 959 563